The illustrations on the following pages will give a touch of originality to your website. There is a bit of everything, those that already have an established design and others that you can customize by choosing colors or removing elements to adjust it to what you want.
As you can see below there is a great variety. If you are looking to find illustrations you are in the right place.
Free Artwork Download
unDraw
Large collection of vector illustrations that you can download in svg and png format. You can also customize the color before downloading.
Storyset
It's a page you'll love if you're looking for illustrations. You can change the color, delete elements, animate elements… You can export it as svg with animations included, with svg and css apart, with svg and javascript apart, as a gif or as a video.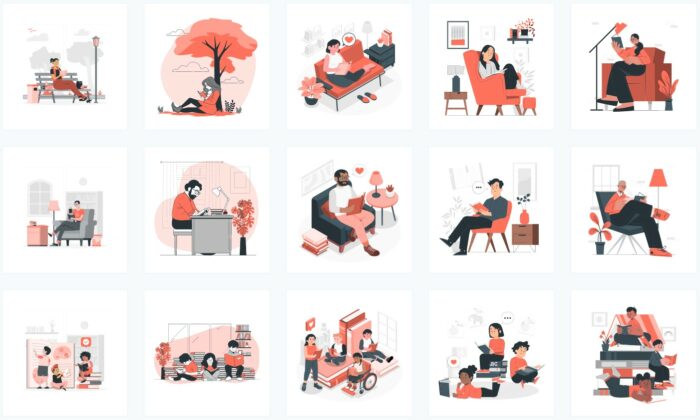 DrawKit
There are free and premium illustrations. It is organized by themes and depending on the one you choose you can download it in Figma, in svy or png, some in the 3 options.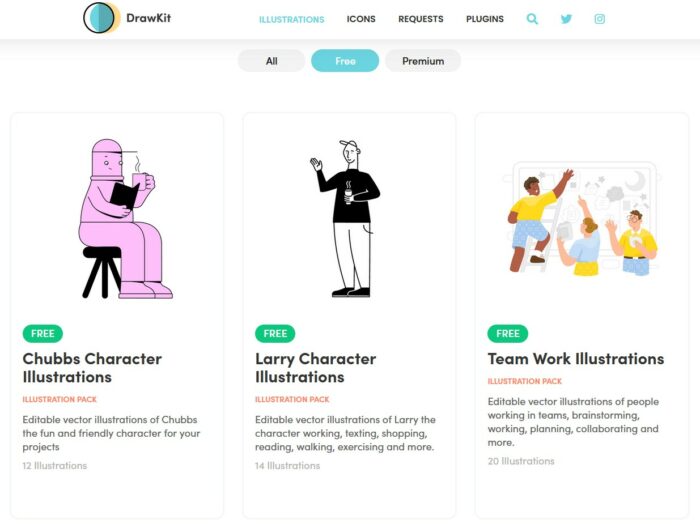 Humaaans
If you liked the previous
pages, this one will not leave you indifferent and also gives a plus with respect to the previous ones: you can customize the people. Yes, you can change your hair, clothes, skin tone… A marvel of a tool. Humaans is a collection designed by Pablo Stanley.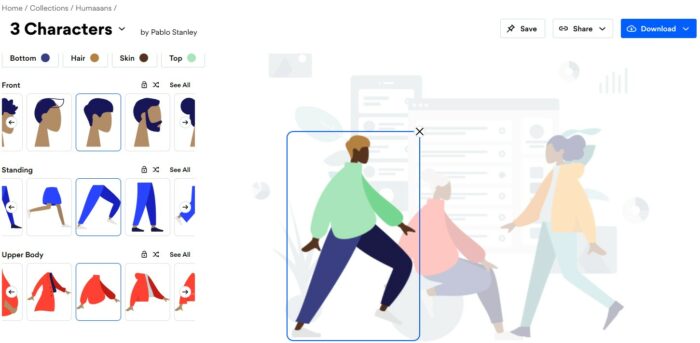 Open Doodles
Collection of illustrations of people at different times. You can download each of them in svgo png.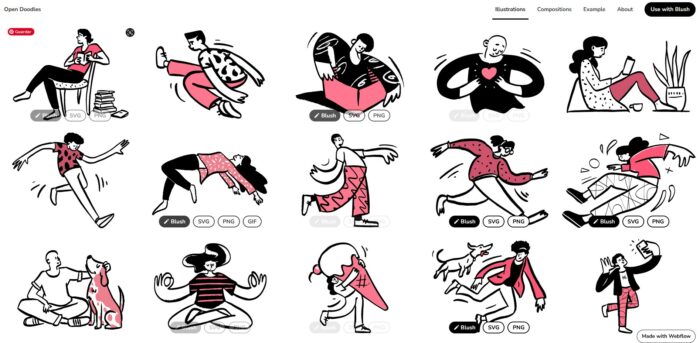 Sketch Valley
As a drawback you will not be able to edit them but it has several advantages that are that you can download them in png, ai and svg for free.
Illustration Kit
You can use a plugin with these illustrations for your designs if you use Figma. You can customize some colors of the clothes and the skin tone of each illustration. Option to download in svg and png.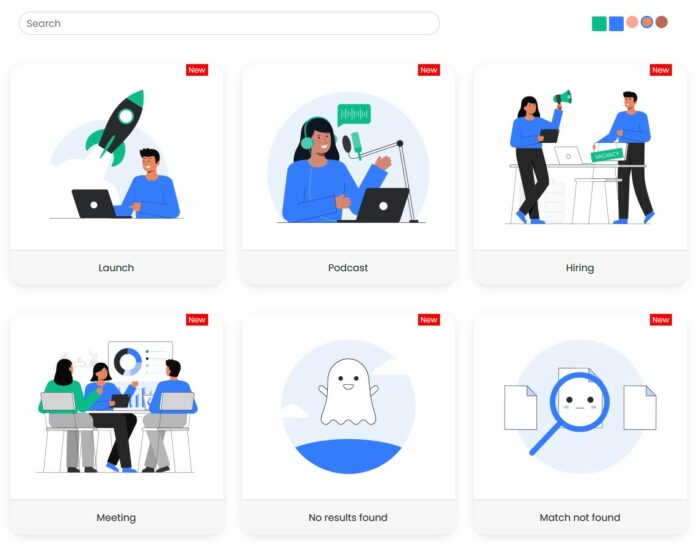 Pixel True
On this page you will find a lot of free illustrations in svg, png and ai (Illustrator) format. Many contain some kind of animation.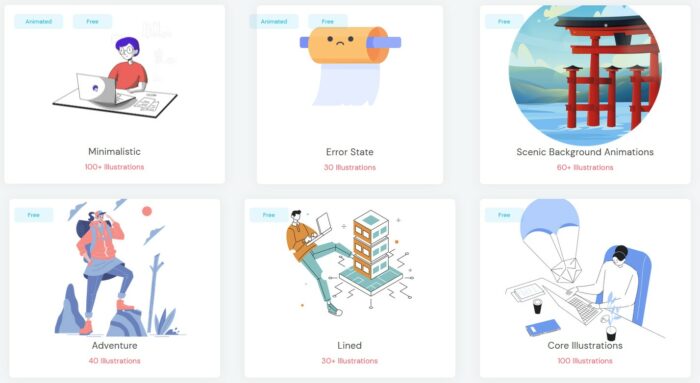 Icons 8
There is a lot of variety of different types, and 3D type is included.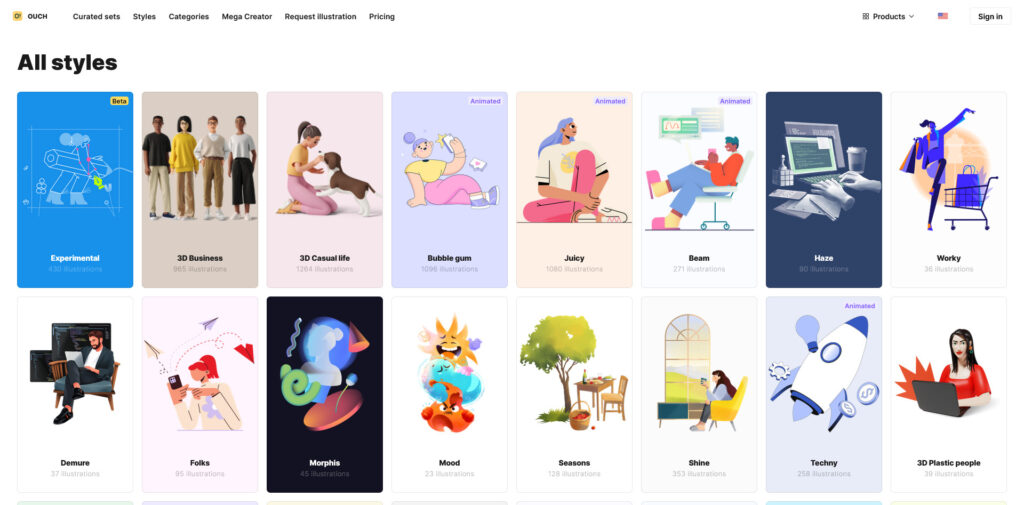 Blush
It has collections of vector images, and encourages you to tell your story with these illustrations. It also has a plugin for Figma and Sketch.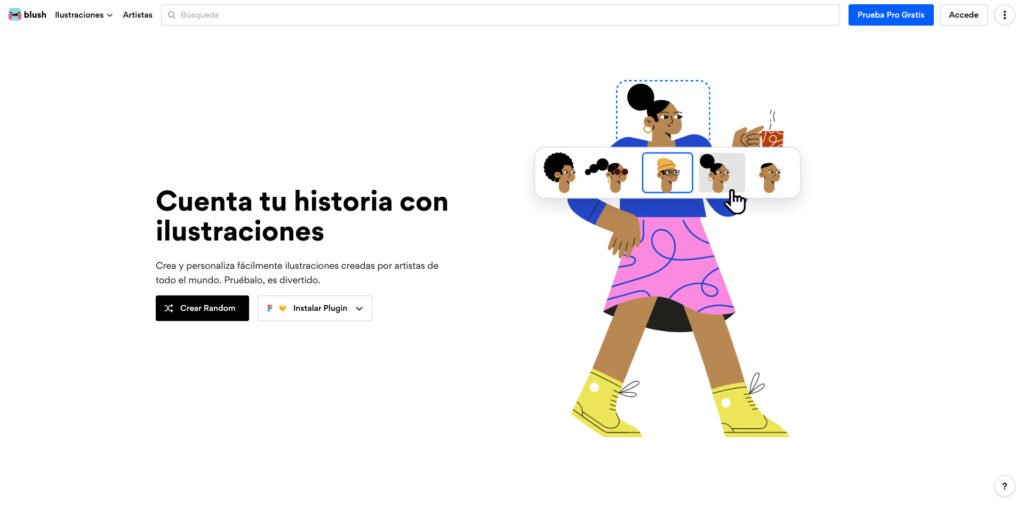 Illustrations
You can download for free and use these designs in ai, svg, png, eps and Figma formats.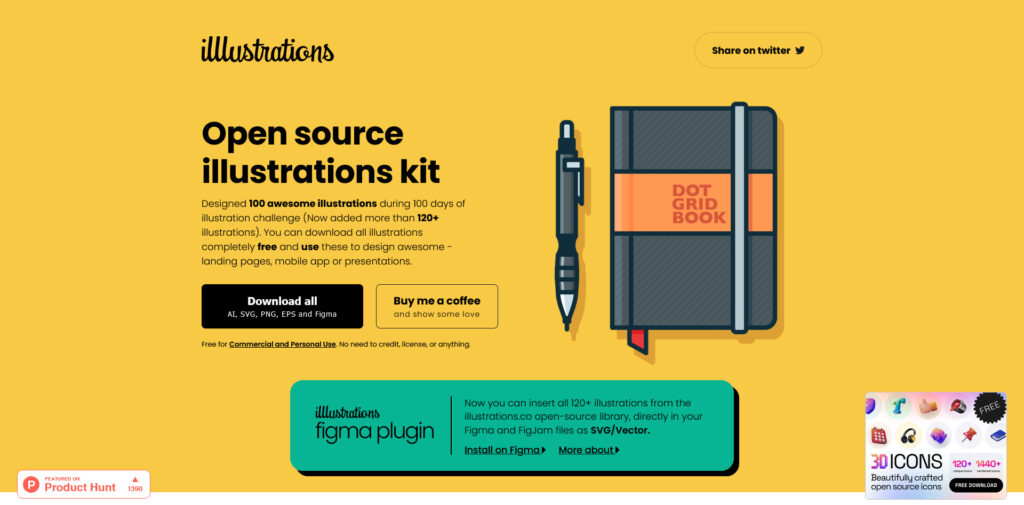 Why do you have to use illustrations on your website?
There are many advantages to using vector illustrations on a web page, some of which include:
They attract the user's attention: Illustrations can be very attractive and eye-catching, which can grab the user's attention and make them stay longer on the page.
Help communicate complex ideas: Illustrations can help explain complex ideas in a simple and visual way, which can make the information easier for the user to understand.
Reinforce branding: Illustrations can be an effective way to reinforce a company's brand identity. Illustrations can help establish a consistent aesthetic throughout the page, which can help users remember the brand and distinguish it from others.
Improve usability: Illustrations can be an effective way to improve the usability of a page. They can help guide the user through a process or make page functions easier to understand.
Illustrations can make a web page look more professional and curated, which can increase the perceived value of the brand and make users feel more comfortable interacting with it.
In short, illustrations can be a very powerful tool to improve the user experience on a web page and increase the perceived value of a brand. You can use them in any type of project.
I'm going to update this page as I find free illustrations that are worthwhile, so if you are interested in the subject, subscribe so you don't miss anything. Many of them are vector art.